A unique hydrogen power system is what sets Aqua apart from any other yacht prototype we have known so far. The visionary 122m concept by Dutch firm Sinot Yacht Design & Architecture raises the bar on contemporary yachting with a futuristic, ocean-inspired design and ground-breaking green technology.
The ultimate evolution in luxury yachting, Aqua is purely designed to amaze. Fluid wavy lines flow from stern to bow. On board Aqua, the design is all about the sea, and thoughtfully created to delight owners and guests with spectacular, seamless views of the waters all around – the 360-degree pilothouse, the unique Aqua room at the bow and the main pavilion areas, lined with full-height windows for an immersive experience.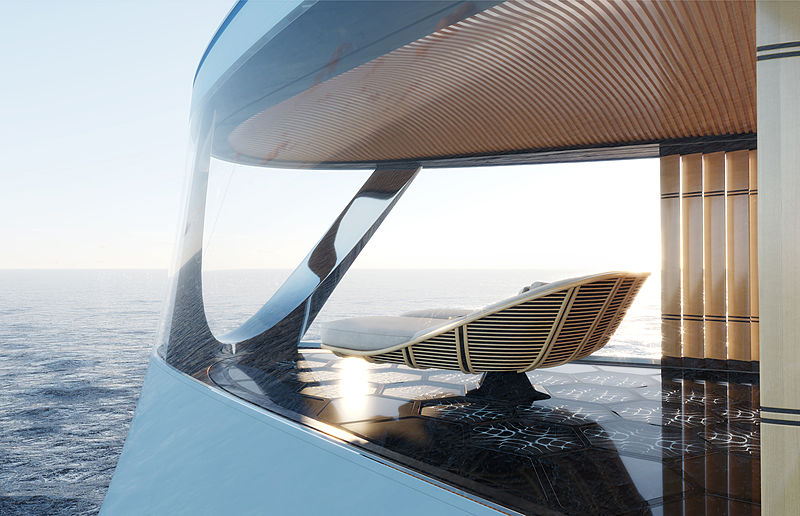 Several spaces are also located just at the waterline, like the yacht's hydro-massage room, yoga and fitness areas, and a naturally-lit VIP suite, decorated with the minimalist Japanese style that adorns Aqua's high-ceilinged interior.
An imposing staircase with a central waterfall greets guests when boarding at the stern, leading to the beach deck and most guest recreational areas.
Developed by British Lateral Naval Architects in five months, Aqua's power system runs on PEM fuel cells and liquefied hydrogen, converted into electricity – partly stored in large lithium-ion batteries – and distributed across the ship, propulsion system included. An unprecedented setup for an unprecedented comfort, with imperceptible vibrations and noise.
Our challenge was to implement fully operational liquid hydrogen and fuel cells in a true superyacht that is not only groundbreaking in technology, but also in design and esthetics
states designer Sander Sinot.
Aqua's performances are just as astounding. The superyacht can reach a top speed of 17 knots and travel a range of 3,750 nautical miles – roughly the distance between London and New York.