The Board has decided to reschedule the Race for Water Odyssey stopovers, initially planned for the period between May to August 2020, to the last quarter of the year, from October to December 2020.
The decision is a matter of course in view of the health safety directives related to Covid-19 imposed by all governments.
Regarding this postponement, our various local contacts are confident, especially in Japan with our local partner Zeri Japan, but also in China and Singapore which will be our next host countries.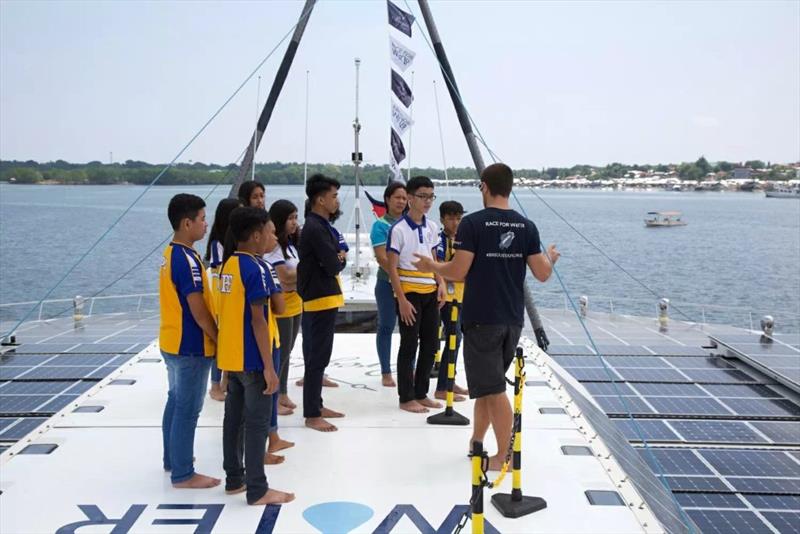 21st stopover of the Race for Water Odyssey © Race For Water
In order to compensate this postponement of activities, we have therefore agreed to escalate our programme at the end of the year and to target in priority major cities such as Tokyo and Osaka, Shanghai and Singapore.
Regarding the 2021 provisional programme and although the Dubai Universal Expo 2020-2021 risks being postponed, we wish to maintain our main stopovers in the countries of the UAE, especially Dubai and Abu Dhabi. We then plan a return to Europe via the Mediterranean Sea with stopovers in Italy, Spain, Morocco and Portugal before concluding the five-year Odyssey in France at the end of 2021.
Marco Simeoni, president of the foundation Race for Water: "Today, I thank all of our employees, the vessel's crew and the majority of our service providers for their flexibility and ability to adapt in this difficult and painful period that we are all going through. I would also like to sincerely thank our main partners who have approved the wisdom of our decision and confirmed their maintained confidence. Our aim is of course to be able to resume our joint activation programmes as soon as health and logistical conditions allow."
During these troubled times, the foundation will nonetheless continue its work of promoting and spreading the message of ocean preservation via social networks, our website and various engaging films that you will be able to watch very soon on our YouTube channel.
As such, we would also like to remind all that even if the entire plastics industry is taking advantage of this health crisis to laud in the media the benefits of single use plastics as "life-savers", it is important to understand that the direct and indirect damages linked to the use of plastic in our daily life are an unprecedented health and environmental disaster! And how urgent it is to act and continue the fight against single use plastics!
by Race For Water