Many owners – Sir Lindsay Owen-Jones, Pier Luigi Loro Piana, Lord Irvine Laidlaw, Claus Peter Offen, Carlo A. Puri Negri, Riccardo De Michele to name a few – have raced the Maxi Yacht Rolex Cup for years.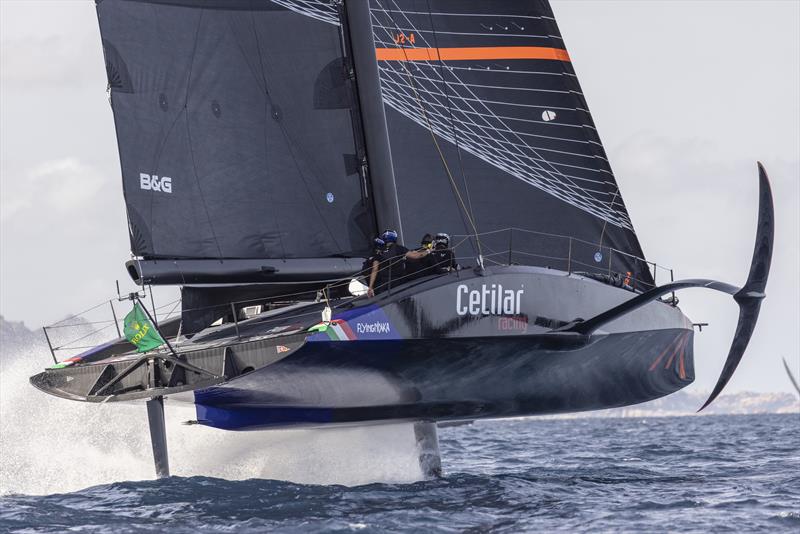 But on the opening day of the 2022 edition of the International Maxi Association's pinnacle event, organised by the Yacht Club Costa Smeralda, it was generally not the old hands but the new that enjoyed the best results.
With the 10-20 knot wind from the southeast, the race committee sent the 46 competing yachts in seven classes on an upwind leg and then on an anti-clockwise lap of the La Maddalena archipelago, with a long run up the seaward side of the picturesque islands before a beat up 'Bomb Alley'. The courses were 31nm for the faster maxis (Super Maxi; Maxi; J Class; Mini Maxi 0 and 1) 23.5 for the slower ones (Mini Maxi 2 and 3-4).
There was drama at the J Class start when the massive genoa on Topaz exploded requiring her army of crew to scrabble to recover the broken sail and plug in a replacement before they got going. For the three other classic 1930s designs, the competition was close with Velsheda claiming line honours but Svea winning under the J Class Rule.
On Velsheda they got off to a good start and led up the first beat. "We had a good tussle with Svea – we are probably a similar speed upwind and they have a little edge downwind," said tactician Tom Dodson, paying tribute to owner/helmsman Ronald de Waal. "He had a brilliant day, even though it was tricky – we weren't that far in front and a couple of times in Bomb Alley we only just scraped in front of Svea." Ultimately Velsheda finished third on corrected time behind Ranger.
Another Swedish-owned yacht prevailed in the Super Maxi class with the Swan 115 Shamanna scoring her first ever race win. The crew comprises a mix of the owner's friends and seasoned pros like Guy Barron, Jens Christensen, David Gilmour and Andrew Taylor. "It is exciting to have won our first race," said Barron. "It is nothing special apart from people working to get better and better as a team…"
Shamanna's owner added: "It felt good! It was a nice race, but unremarkable – we are trying to avoid making any mistakes, but you can always improve. It is our first day here and we have been going through what we can do better."
Similarly in the Mini Maxi 2 class, it was not Spirit of Lorina or other regular winners, such as Capricorno or Twin Soul B, that prevailed but German Sven Wackerhagen's new team on the Wally 80 Rose.
Danish former World Match Racing Tour winner Jesper Radich is calling tactics on board: "I think we stayed cool. The race course was fairly straightforward, but the devil was in the detail and a trade-off between making too many sail changes and optimising what you have flying. We made a massive gain on the reaching leg by just keeping our A2. The owner is thrilled."
Among the former Maxi 72s in Mini Maxi 1, it was not the highest rated – Hap Fauth's Bella Mente, nor reigning champion Dario Ferrari's Cannonball that won today but Jim Swartz's Vesper; one of the least tampered-with Maxi 72s.
Jim Swartz's Vesper won Mini Maxi 1 today. The boat knows this race course well having previously been the two-time Rolex Maxi 72 World Champion Momo. Photo: IMA / Studio Borlenghi
"We just had a good day," said Swartz, who won Les Voiles de Saint Barths earlier this year. "The boys really sailed the boat well. We had a couple of passing opportunities and that was pretty much the race." Swartz acknowledged that some of the usual heavy hitters are having to relearn their boats following extensive modifications made to them.
One of their passing moves was what tactician Gavin Brady described as a 'power set': "We came around the top mark third and just left the jib up and started hiking immediately, while Cannonball went into more of traditional jib down/staysail-up bear away. We got up into the passing lane before they realised we were up inside them and there was nothing they could do because they had five guys on the bow while all our guys were hiking. We had talking about that move last night over some red wine..!"
Ultimately Sir Peter Ogden's 77ft Jethou beat them on the water to claim second under IRC corrected time with Proteus third.
In the Maxi class it was Lord Irvine Laidlaw's Reichel-Pugh 82 Highland Fling XI that came out on top, while David M. Leuschen's Wallycento proved that her clean sweep at PalmaVela wasn't a fluke: first on the water, second on corrected time and winning the unofficial fight of the 100 footers over Leopard 3 (4th overall today) and last year's winner, Magic Carpet 3 (7th).
Meanwhile Highland Fling XI's crew are keeping their fingers crossed. They won the first two races here last year but then a broken forestay caused them to plummet from the podium. According to the boat's captain Xavier Mecoy: "It was a nice surprise for us today. We had a shocking start because we had a problem with the runner winch hydraulics getting off the line, so we were buried. By the offset mark we had got ahead of Y3K and then stretched out nicely from there. I was surprised how well we held on to the 100s – we sailed a great race."
This was also the very first race for Pier Luigi Loro Piana's brand new canting keel ClubSwan 80 My Song, which finished an encouraging third in the 13-strong Maxi class.
In the combined Mini Maxi 3 and 4 it was the familiar silver form of repeat class victor here – the Vallicelli 78 H20 – that was today's run-away winner, finishing more than seven minutes ahead of Luca Scoppa's Dehler 60 Blue Oyster and the Swan 65 Shirlaf. H2O's owner Riccardo De Michele said they enjoyed today's conditions. "With this wind I can say that H20 has no rivals in her class. Shirlaf worries us because she has a lower rating, but she arrived 40 minutes later, so no problem in the end for us." H20 also has had much the same crew for the last five season including Lorenzo Bodini calling tactics.
There was much smiling for Roberto Lacorte and the crew of the 60ft foiling maxi FlyingNikka, which also sailed her first ever race today. The extreme boat got off the start line well and demonstrated exceptional ability, comfortably foiling upwind in just 10-12 knots. "It was the day we have been waiting for to demonstrate our project. We are happy and doing a very good job from the performance point of view," said Lacorte.
Tomorrow Mini Maxi 1 and the J Class will race windward-leewards and the rest will continue on coastal courses with a first start at 1200. Moderate southeasterlies are again forecast.