Group reports €148m loss compared to 2018 profit of €69m
The negative performance restructuring costs of the Vard Group, a subsidiary of the Italian state-owned Fincantieri shipbuilding group, has caused Fincantieri to report a loss of €148m for 2019 compared with a profit of €69m in the previous year. Vard is currently participating in the build of the REV Ocean82, the world's largest superyacht which is due to be delivered in 2021.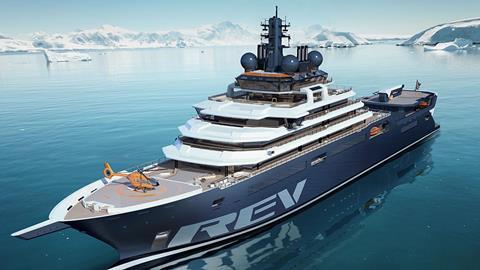 While Fincantieri also has its own superyacht build division, it is not currently building any such vessels. The hull of the REV Ocean was constructed at Vard's Tulcea shipyard in Romania, one of the nine it operates in Norway, Brazil and Vietnam. On completion of the fitting of key equipment and systems, set for later this month, the REV Ocean is due to relocate to the Lloyd Weft shipyard in Bremerhaven for its final fit-out before completion, trials and delivery.
The REV Ocean is designed to be a research and exploration vessel, but it is built to superyacht standards and at 182m (597ft) and 17,440 GT, she will be both the world's longest superyacht and the largest by volume. She was designed by Espen Oeino and has an interior by H2 Design.
The restructuring of the Vard Group followed its delisting from the Singapore exchange late in 2018 and involved a write-down of some €50m and extraordinary items for the settlement of asbestos-related litigations at €40m.
In addition, the group loss included the negative performance of Vard following its delisiting. As a result, in 2019 Fincantieri undertook a review and a reorganisation of all Vard operational activities with the aim to identify necessary actions to improve operations. This involved a radical change in Vard's management, now predominantly Fincantieri's, and it included the full organisational integration within the Group and the alignment of strategy and production operations with Fincantieri's best practices. With other restructuring work it was the cost of all this improvement work that caused the group loss for 2019.
Fincantieri SpA's own performance was broadly in line with the excellent 2018 results, with revenues rising 8.8% up to €4.3bn; EBITDA at €489m, EBITDA margin of 11.3% and a profit for the period of €151m. Revenues amounted to a record €5.849bn, an increase of €433m compared to the previous year (+8.0%).
In respect of coronavirus, Fincantieri's production activities have been interrupted since March 16 due to the COVID-19 emergency. The outbreak will affect 2020 results. "However, with the resolution of the situation in a reasonable time frame, the group's financial structure will be able to face the impacts," Fincantieri said. Its priority is "safeguarding clients and strategic partners to ensure the acquired backlog, notably in the cruise sector, among the hardest hit by the COVID-19 crisis."